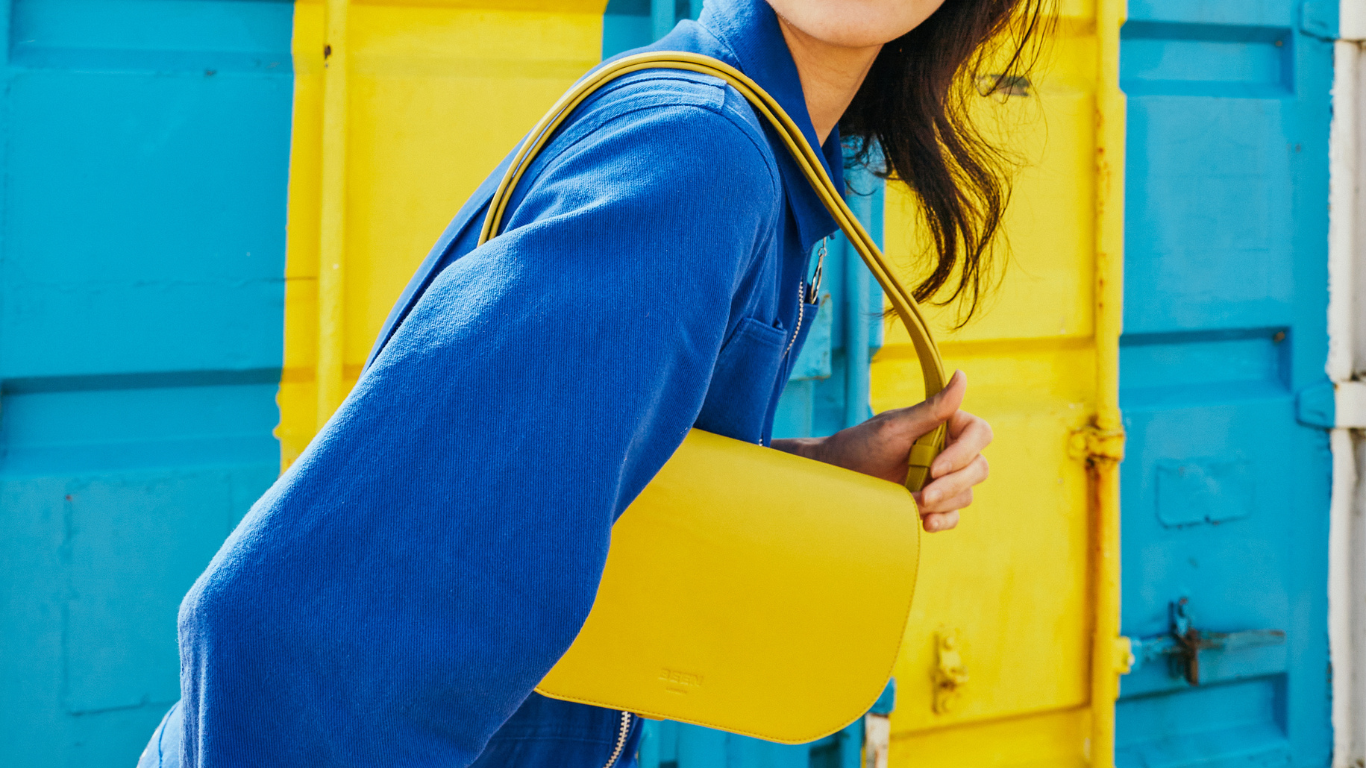 CIRCULARITY
Since the very beginning, circularity has been at the heart of everything we do here at BEEN.
In 2018, we made the decision to start an accessories company that didn't take any natural resources from the earth, but instead reused materials that were already in the system to solve the problem of waste.  Since then, we've considered circularity in every decision we've made, from the way we think about our designs to the materials we choose.   
WHAT IS A CIRCULAR ECONOMY?
The basic principle of circularity is simple. It's about moving away from the usual 'take-make-dispose' system, which is 'linear', to a more circular one, where products last longer, are cared for, repaired and reused, and when this is no longer possible, can be transformed into something new.
1. DESIGN OUT WASTE
Stuff only becomes waste when it's not used or needed. So we decided to divert that waste, by only using recycled materials made from things like post-consumer plastic bottles, used textiles and leather offcuts and trimmings. This significantly lowers each bag's environmental footprint (because it didn't take from virgin resources) while at the same time actively reducing the waste in the system by giving it a new purpose.

We also strive to limit the amount of waste we create through our design process. Many of our most loved bag styles are rectangular, including our bestselling pouches and tote bags, meaning we create almost zero offcuts in our studio - our New East Tote has been made with a sleek one-piece folded construction to create more space with less waste. Yes, a bit of a design limitation, but also a beautiful creative challenge!

Any offcuts that are created in the production process are being collected and recycled - more on this to come very soon!
2. DESIGN FOR LONGEVITY
Compared to 15 years ago, we buy more clothes, bags and shoes, and we wear them for less time. Things are cheaper and, in wealthier countries, so accessible that many clothes and accessories sometimes get just a couple of wears!

Our thinking here is simple.

> Design versatile, seasonless, timeless pieces that will still look amazing after a few years of wear.
> Use materials that really last (our recycled leather has been so abused in testing that we know it can withstand being bent on itself 5,000 times without cracking or changing colour)
> Fix things. We offer repairs to make sure that your BEEN London bag stays as good as new for as long as possible. 
3. DESIGN FOR END OF LIFE
The most challenging part is the 'end of life'. Consider the shoes you're wearing, or the bag next to you - it could have up to 10-15 different materials all glued together. Looks great, but makes it impossible to deconstruct and reuse the materials when it reaches end of use.

We've tried to preempt this problem by stitching our lining to bags and by using water-soluble glues, or leaving our bags unlined! This means that after years of wear, when reuse and repair are no longer options, you can send the bag back to us: we'll dismantle it for you and recycle all the materials.
One day there will be kerbside recycling for things like shoes and bags and everyone will be able to do it. But for now, we'll take care of it—and keep that circular economy spinning...